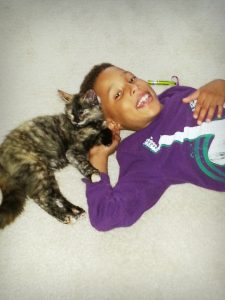 I happened to be scrolling through my Facebook feed one day six years ago and saw that a friend of mine had an offer for a free kitten to a good home. I immediately called her and arranged for my son Drew and I to go pick her up on the following Saturday.
August 10, 2013 was the day I brought my feline daughter home. Her previous owner hadn't named her and when I looked in her little tortoiseshell face I knew that Storm would be the perfect name for her.
Between her multi-hued coloring and feisty temperament, she was a force to be reckoned with. She may not have always liked the visitors who came to our house, but she was always loving to her immediate family.
Unlike many Maine Coon cats, Storm rarely spoke unless my husband Dijon walked into the room. Upon meeting him for the first time, she looked at him with those big green eyes and chattered as if he could understand everything she said. It was always touching to watch their interaction similar to a true Father and Daughter. He would often say that she must've been a relative that had passed reincarnated to keep watch over him.
I always thought that I would have Storm at least long enough for my son to graduate college and for him and I to debate that he wanted her with him at his own place, but sadly my little Lady passed and there has been an emptiness in my heart ever since. I miss her tremendously and the ache will only be eased by time.
Storm, Thank you for loving us so much. You were the perfect welcome home each day. You may be gone, but you will never be forgotten.